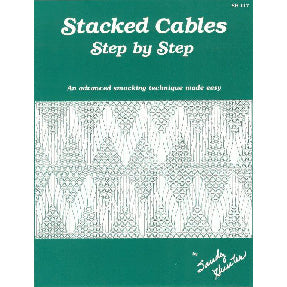 How to Smock Book by Sandy Hunter
This book contains a multitude of stitches from the basics to the elaborate "flame stitch."  Stacking cables row after row is the beginning of "picture smocking." There is a dot to follow so you know when to turn your work upside down or right side up.
The smocking design plate "Kelly's Flowers" goes with this method of stacking.
You will need a pre-pleated sampler to practice on
Advanced smocking technique made easy
Large, easy to read diagrams
Three options: 
Book 
Book and Sampler
Book, Sampler & Smocking Design Plate
© All Rights Reserved.  Reproduction without written permission of the author is prohibited.