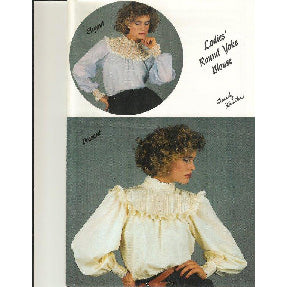 Lady's Round Yoke Blouse Pattern by Sandy Hunter
This Lady's Round Yoke Blouse pattern uses Lace (photo insert) or eyelet edging, beading, insertion, tucks and Entredeux (meaning "between two" in French). The peasant style blouse (cover photo) uses the eyelet laces.
As with the other patterns, this blouse can be turned into something else, like a nightgown! You would need to increase the length of fabric required. 
Long or 3/4 sleeves 
Pairs well with our Skirt pattern! 
Sizes 6-18 all in one pattern
French sewing instructions included
Pattern available by mail
© All Rights Reserved.  Reproduction without written permission of the author is prohibited.