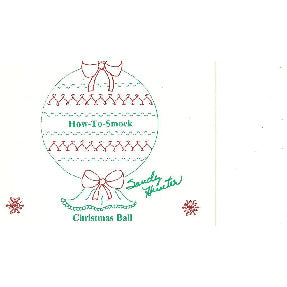 Smocking Design by Sandy Hunter
A beginner's project with 2 smocking designs and instructions for the smocking stitches included in the designs. A good way to learn to smock if you don't have access to a class.
      Pattern by USPS, plus shipping.
A pleated sampler is necessary (see products).
Smocked Christmas Ball Kit (See products)
© All Rights Reserved.  Reproduction without written permission of the author is prohibited.